PD-V Digital Tuning Box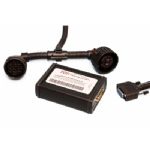 749.99
The PD-V Tuning Module is designed for diesel-powered vehicles equipped with a Pumpe-Düse Fuel Injection System that was used in VAG vehicles (VW, Skoda, Audi etc) in the Pre Common Rail diesel models.
These PD-V modules takes about 10-20 minutes for installation as they come a harness with factory compatible connectors that connect straight into the vehicles original wiring harness.
Delivered pre-programmed with our latest software to suit your exact model and pre-loaded with multiple maps to choose from, this discrete state of the art device packs a lot of punch! Manufactured with encased in our own anodized black aluminum, durable weather resistant housing, this system is as strong as it is powerful.

Installation and removal is exceptionally straight forward. This system has been engineered to ensure that even customers with no mechanical experience can install this system themselves in under 5 minutes. To make things even easier, this system is completely "Plug & Play" ensuring there are absolutely no cables to be cut. 12 Volt Power is taken directly from your battery in order to enable direct power supply. We also only use Genuine OEM connectors to guarantee easy installation.