CRTD2 EDC17 Diesel Tuning Box Chip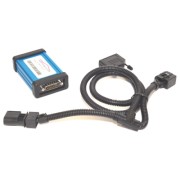 849.99
CRTD2® EDC17 Diesel Tuning Box
Key Features:


    Upto 40% Safe Power and TorqueGains


    Upto 20% Improved Fuel Efficiency Gains


    7 Vehicle Specific Fuel Maps


    Traceless Once Removed


    Greater Throttle Response


    Removal of Hesitation and Flat Spots


    Re-programmable for your next vehicle


    Automatic and Semi-automatic Compatible


    DPF, ECU and EGR safe


    Dyno Measured and Proven Results


    Easy Straight Forward Installation


    No Quibble 30 Day Money Back Guarantee


    3 Year Product Warranty


    Fast Unlimited Technical Support


    Orders placed before 3pm weekdays are dispatched same day


    Fast Worldwide Shipping


The CRTD2® EDC17 Diesel Tuning Box from TDI-Tuning is an advanced Micro-Processor Controlled, Digitally Programmed, Multi-Mapped electronic tuning system. Currently our flagship product, this device has been designed and engineered to meet the requirements of your every driving style. Vehicles fitted with a DPF (Diesel Particulate Filter) are no trouble for this system, as the CRTD2® EDC17 boasts high performance processors, which are used to enable real-time processing without affecting the internal protection function. Delivered pre-programmed with our latest software to suit your exact model, this discrete state of the art device packs a lot of punch! The CRTD2® EDC17 can be adjusted yourself if you wish by means of simply moving a series of switches on the back of the tuning box to select one of the multitude of fuel map programs which takes seconds to complete. Adjustment is a key design feature of the CRTD2® EDC17 to ensure you have full flexibility over the power gains you achieve. However this is completely optional as the system is dispatched fully configured. Manufactured exclusively for TDI-Tuning and encased in our own anodised aluminium, durable weather resistant housing, this system is as strong as it is powerful.
Before this system was developed, we asked thousands of our customers from all around the world, what they would like to see in their next generation of TDI-Tuning Diesel Tuning Box. Well we are pleased to say that we have listened, and we have delivered! Because the CRTD2® EDC17 is effectively a computer, our software programmers have complete flexibility on how they program each vehicle map. This Diesel Tuning Box is so flexible; we can even re-program your system for you whenever you change your vehicle in the future.
Installation and removal is exceptionally straight forward. This system has been engineered to ensure that even customers with no mechanical experience can install this system themselves in under 5 minutes. To make things even easier, this system is completely "Plug & Play" ensuring there are absolutely no cables to be cut. We also only use Genuine OEM connectors to guarantee easy installation. View the video further down the page to see just how quick and easy installation is.
All TDI-Tuning Diesel Tuning Boxes come with a full 30 Day Money Back Guarantee and a 3 Year Warranty against manufacturing defects. Full English easy to follow Installation Instructions are provided, and every system is backed up by our 24/7 support.
Each CRTD2® EDC17 system also carries intelligent Fuel Saving software. Below you will see figures relating to your Fuel Efficiency improvements.